Tips for Students Renting Off-Campus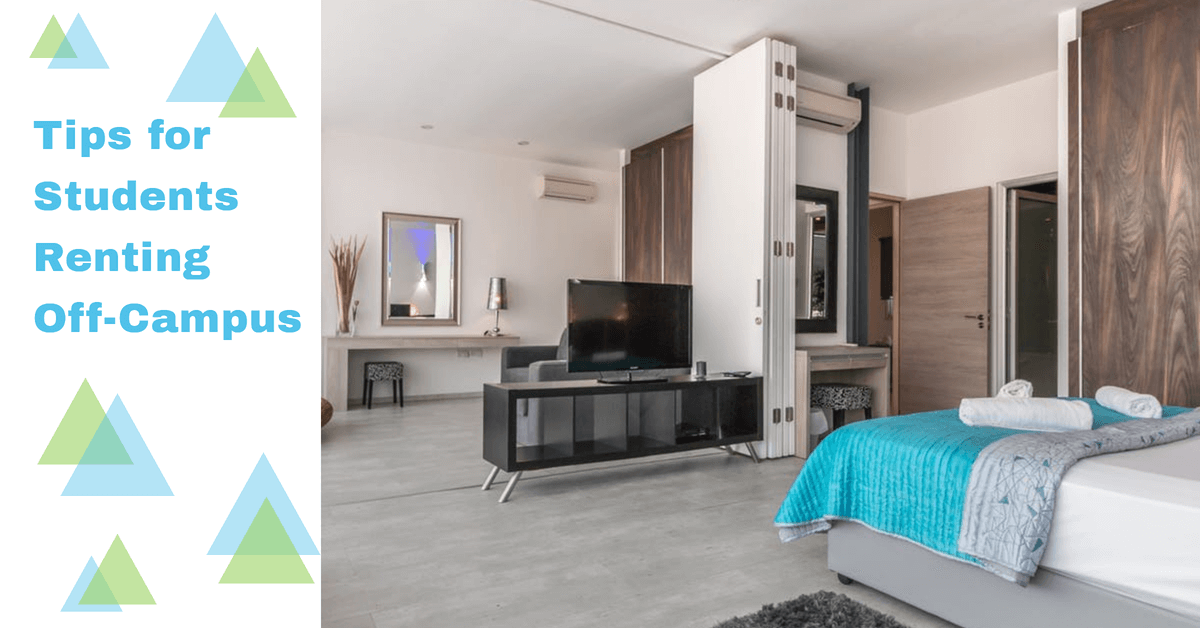 Dorm life isn't for everybody. Maybe like Virginia Woolf, you're craving a room to call your own so you can engage in your artistic pursuits free from interruption. Perhaps you're a non-traditional student, or you have a family, and you feel out of place in typical campus culture.
Whatever your reasons for seeking off-campus housing, proceed with caution. When you're desperate for a place to live, it's tempting to sign a less-than-ideal lease or accept unpleasant conditions. You deserve to get the most for your money — here's how to find a student apartment rental where you can do so.
1. Determine Your Budget
Before you begin, you should outline a realistic budget. Many students fall into the trap of thinking rent is the only bill to worry about, especially if they've lived in dorms in the past. However, unlike living on campus, you're responsible for utility bills — and more. Consider the following expenses:
Utilities: Depending on your lease, you might have to pay for all your services. Conversely, you may only cover a few. Typically, leases expect you to foot the water and electricity since these bills depend heavily on use. You might also need to pay for trash and sewer, and, if your rental is in an HOA, any applicable fees.
Insurance: What happens if your apartment floods or burns down? Your landlords' property insurance covers their loss — but not your books or laptop. Protect yourself with renter's insurance.
Food and supplies: Many universities let you participate in their cafeteria program. However, if you live too far off-campus to make walking to the dining hall when you're hungry convenient, you'll need to stock your fridge with healthy snacks. Otherwise, you could spend a fortune on delivery while living in your off-campus rental. You'll also have to cover necessities like toilet paper and cleaning supplies.
2. Know Critical Lease Terminology
When you sign a lease, you're putting your name on a binding contract. That means you're agreeing to terms your landlord can sue you for breaching — so take the time to read your lease before marking the dotted line. For example, some landlords will include a list of charges for damages they'll credit against your security deposit. If you're concerned about getting all of your money back, adhere to all terms and fix minor mishaps yourself.
Depending on your school, you may need to petition for release from on-campus housing requirements. Don't sign your lease until you check with your advisor about this possible requirement. If you don't win approval, you could end up footing the bill for two places — something few college students can afford.
3. Track Your Bills
If you live in the dorms, chances are your housing payment gets deducted as part of your tuition and fees. However, when you rent a student apartment, you have to remember due dates. If a bill goes to collections, it will negatively impact your credit score for years to come. This ding makes it challenging to obtain auto loans and credit cards. Plus, if you pay your monthly bills more than 30 days late on a routine basis, you'll pay hefty hookup fees every time you move to a new pad.
4. Be a Good Neighbor
Maybe you moved to off-campus housing because you wanted to be free from rules like curfews. That's fine if you work the third shift. However, if you did so with the intent of partying until dawn every evening, it won't take long for your neighbors to complain.
Be a good neighbor. If you don't appreciate the sound of Metallica on full blast at 3 a.m., don't crank your jams at all hours. If you decide to host a get-together, coordinate with others in your building about parking. Most people will cooperate for the occasional event if you request in advance. They don't respond as kindly when they return home from a trying day and find their assigned parking spot taken without permission.
Make Packing a Breeze
Finally, unless you plan to live full-time in your off-campus rental, you want to make packing up easy at the semester's end. You can use crates to store your books and other items. That way, you can quickly pick them up and put them in your car with little fuss. Get into a habit of practicing minimalism so you don't accumulate tons of unnecessary items you'll need to move or sell in a few months.
Enjoy Your Off-Campus Rental With These Tips
You can make the most of your student apartment rental with these tips. You'll enjoy the freedom of having a personal retreat without all the dorm rules.
About the Author
Alyssa Abel is an experiential education writer with a love for learning. Read more of her work for students and educators on her blog, Syllabusy.