New Ontario Student Grant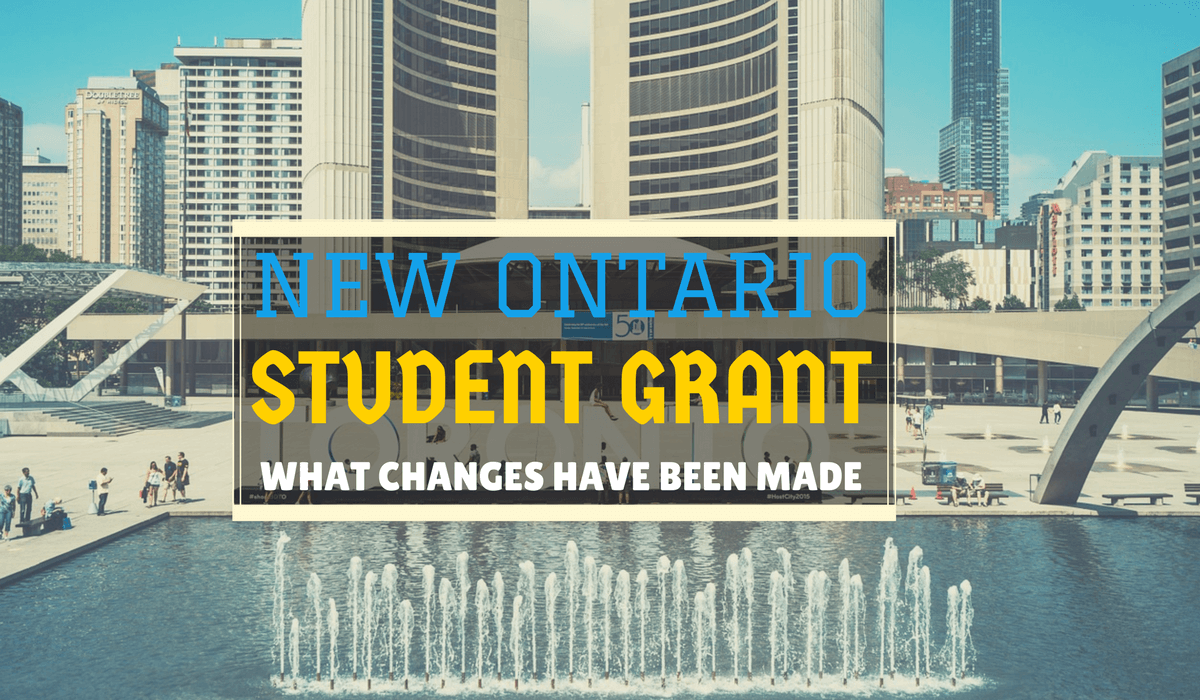 Ontario announced the New Ontario Student Grant starting in the 2017-18 school year. Students whose parents make a combined household income of less than $50,000 per year can have a tuition free. The grant is only applicable to full-time only.
What is OSAP
OSAP is Ontario Student Assistance Program that provides financial aid to students and families to help them finance their college or university education.
The program offers two kinds of funding;
Grants: money that students don't have to pay back
A student loan: money that students need to repay
The OSAP will help students to cover the cost of college or university tuition, books, equipment and supplies, mandatory student fees, living expenses, and child care for students with children. Learn more about new Ontario student grant
What changes have been made?
Now students whose parents make a combined income of $83,000 per year or less can get grants from the government of Ontario. Also, the government is now providing additional financial support to full-time mature and married students that are grant approval isn't tied to how long a student has been out of high school.
These changes have brought a considerable relief for mature students who are planning to go back to school to pursue a career. Students whose from middle and upper-income families now have more access to interest-free and low-cost loans through OSAP, and ensuring no eligible students receives less grant money under the Ontarian Student Grant than they previously would have under the 30% Off Tuition Grant. The government also caps the maximum OSAP debt level at $10,000 for an academic year. Parents and spouses' contribution to the costs of college/university starting in the 2018-2019 school year is also being reduced.
Simplifying and modernizing the system
One of the reasons for these changes is that the Minister of Training, Colleges, and Universities, Reza Moridi aimed to simplify and modernize the system. "When I became minister two years ago - and I have four university degrees - I found it very difficult to navigate the system," said Reza Moridi, Minister of Training, Colleges and Universities. 1 "We wanted to simplify it and modernize the system so that students and parents can understand it." 1 However, some argue that there is not much different than the previous system used.
Grant system isn't free education
Many people question whether the government offers free education. According to Jonathan Shepherd, "Ontario's government has massively underestimated the amount of tuition at $6,160; this is only the average for arts and science tuition. Average tuition, according to Statistics Canada, is $7,858 - a shortfall of more than $1,500."2 Based on the statistic, the professional school will remain inaccessible to low-income students, he added.2
The New Ontario Student Grant is not the same as a free education system in Finland where no tuition fees are charged. Under these new changes, the parents or students should know what to expect when it comes to applying for Ontario Student Grant. Students should not rely on Student Grant only but seek other alternative funding too such as scholarships and bursaries.
Find scholarship for college students on ThePensters and win $1000.
Sources:
[1] Chiose, S. (2016, February 25). Ontario to offer grants to cover college tuition for low-income students. The Globe and Mail Inc. Retrieved from https://www.theglobeandmail.com/news/national/low-income-ontario-students-to-get-free-postsecondary-education/article28916789/
[2] Shepherd, J. (2016, March 01). What Ontario's "free" tuition actually means for students. The Queen's Journal. Retrieved from http://www.queensjournal.ca/story/2016-02-29/opinions/what-ontarios-free-tuition-actually-means-for-students/