English Proficiency Test for Studying in Australia and New Zealand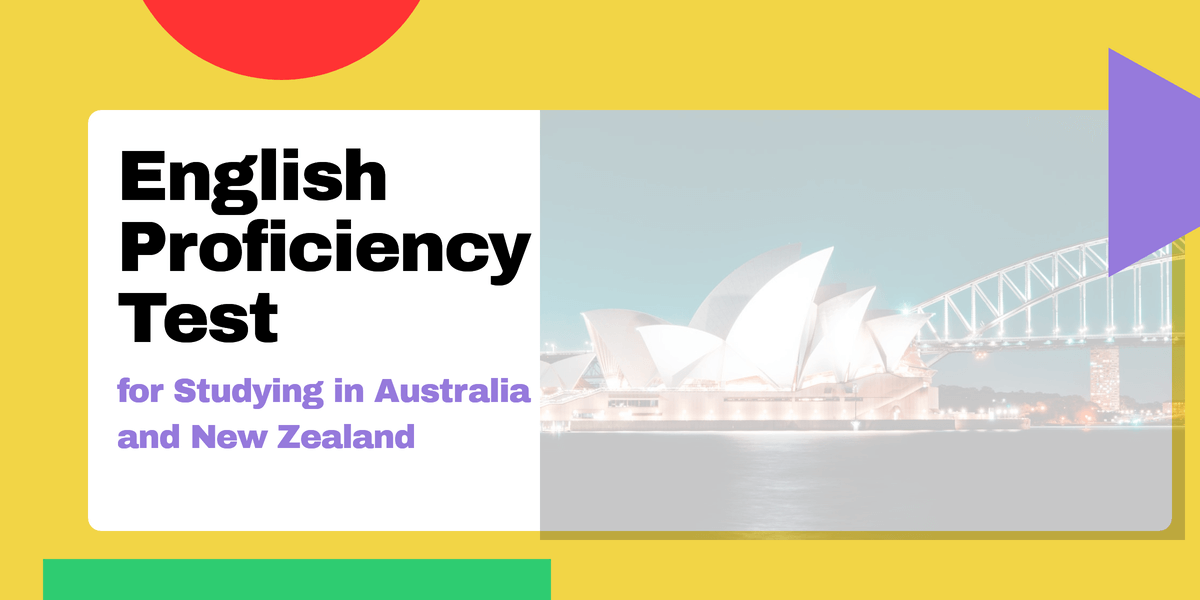 English test proficiency is a requirement when placing an application in countries in which the English Language is the first Language. The areas that require the English test proficiency certificate include but are not limited to study application, visa processes for both study and immigration. Many tests are recognized to prove English test proficiency such as International English Language Testing System (IELTS), Testing of English as Foreign Language (TOEFL) and Pearson Test of English (PTE) Academics to mention a few.
The government of Australia and New Zealand accepts all the above-mentioned tests for visa applications moreover the high education institutions accepts these tests as well.
This article aims to compare and contrast these tests to help the non-English native wishing to study in Australia and New Zealand to make an informed decision regarding which test to take for study opportunities. Various factors to be discussed to consider before selecting the type of test to write include:
Cost
Availability of results
Cancellation or rescheduling test date
Test format
Test duration
PTE Academics
PTE Academics were launched in 2009 by Pearson Language Tests which is dedicated to providing English Language Testing for non-English native people. The test assesses speaking, writing, listening and speaking as major communicative skills and in addition, six enabling skills are assessed based on the entire test. The enabling skills include written discourse, vocabulary, spelling, punctuation, grammar and oral fluency. The test is computer-based and computer-assessed which means that all the sections are computer-scored. The test duration is 3 hours long with a mandatory 10 minutes break.
The examination registration costs 330 AUD, however, there is late registration fee charged for booking a test date two days before the examination day. PTE Academics provide flexibility in case of cancelling and rescheduling the test. There is no medical certificate required or any proof on emergency, moreover, a full refund of the registration fee is awarded for cancellation processed 14 days before the test date while partial refund is awarded for cancellation processed less than 14 days.
PTE Academics also provides learners or test takers with a variety of preparation material such as online mock test. The mock test help prepare the learners for the examination which in turn increase their chances of succeeding and scoring high. The results or scorecard is published within 5 working days after the tests, moreover, for people wishing to retake the test, another tests date can be booked immediately after taking the previous one.
IELTS
It was established in the late 1980s as a test that assesses speaking, writing, reading and listening. It is also computer-based, however, the speaking section is tested by an examiner. This means the test taker has a question and answer session with the examiner. The examination registration costs 330 AUD. Cancellation and rescheduling the IELTS is rather complicated since it requires a medical certificate or proof of trauma and loss of the loved ones. However other specifications that may require cancellation and rescheduling are not clearly stated.
The test duration is 2 hours and 45 minutes with no option for a break during the test. However, depending on test centres the speaking section might be tested on a different day which in most cases is a week from the initial test. The internet-based tests are available within 5-7 days from the test date.
TOEFL
TOEFL internet-based was launched in 2005 and like the other two tests, it assesses speaking, listening, writing and reading. Even though it is computer-based, the speaking section is scored by the examiner and in addition, the writing section is graded by both the computer and examiner. The examination registration cost is 300 AUD. There is a 50% refund of the examination fee for cancelling the test date 5 days before the test date, moreover, no proof is required for cancellation processes. The test duration is 4 hours with a mandatory 10 minutes break.
Author Bio
My name is Veronica Kuenene and I am a Content Writer for Ptepracticetests which is a platform that provides mock tests for PTE Academics. I look forward to bring information regarding the English test proficiency test for people looking to immigrate or study abroad.