Must-Haves When Decorating Your College Apartment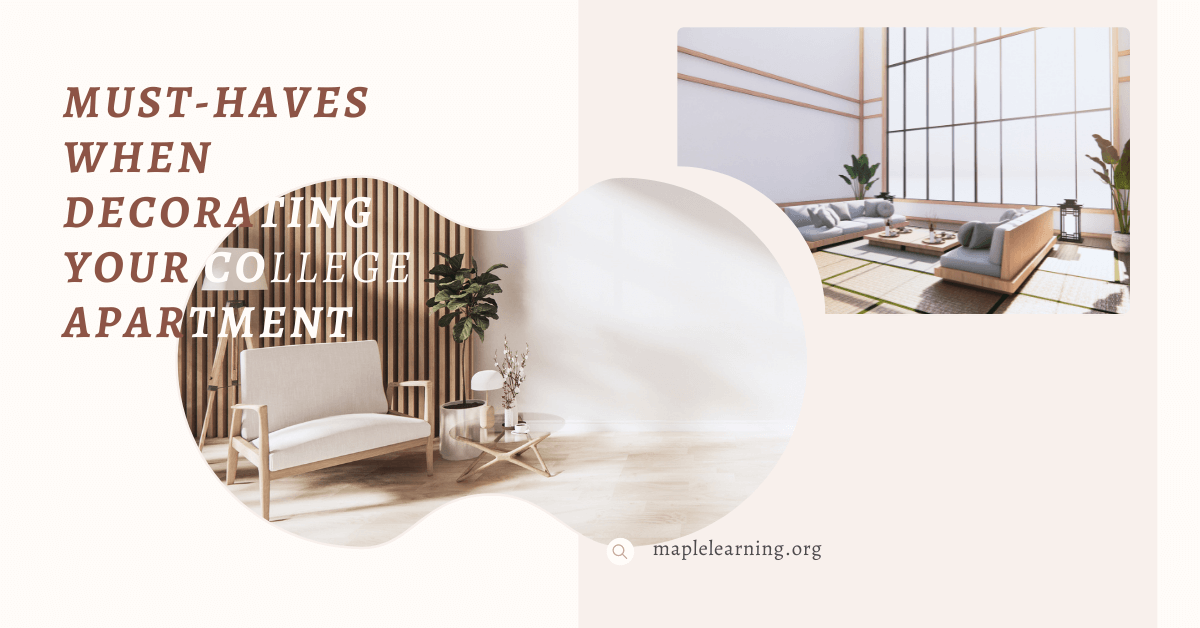 One of the many great things about getting your own place in college is that you finally have the freedom to decorate your space however you want it. Your apartment design should be focused on your personal style, but there are many things available to make your college digs more comfortable and welcoming. With the right design elements, you can ensure that your college apartment is the perfect place for you to host friends, study, and get the rest you need to be successful in school.
An Area Rug
It may seem like a small thing, but having an area rug in your front room can immediately make your space feel more comfortable and welcoming. The right area rug can also be an easy way to introduce patterns into your space and give more of your sense of style. Area rugs are great for defining spaces, so you can use one to establish your living area and separate it from your study zone. This will also put you in a great position to keep your space comfortable and protect your feet from cold hard floors. Since you are renting, an area rug is also a great way to keep your floors protected from damage.
Wall Art
Getting some art up on your walls is a great way to make your apartment immediately feel more personal. Some college students go their entire college career without putting up any wall art and that makes their apartments feel bleaker than they need to be. With some great prints on your walls, you can bring in your personal style, create a color scheme, and generally make your space more beautiful and fun to be in. You don't have to spend a ton of money on art, though. Look at local thrift stores and markets to see if you can find great prints for a good deal to get your collection started.
Throw Pillows
In college your furniture tends to be fairly sparse and even second hand in many cases. But that means the throw pillows you add can be what brings style and flair to your space. Throw pillows can also be used to disguise wear and tear and make your furniture look newer. If you have uncomfortable seating, throw pillows can elevate it a bit and make it more comfortable for studying, watching movies, or just hanging out and chatting. You can get matching throw pillows for your space or go for a more eclectic look with a variety of shapes, sizes, and materials.
Seating at the Table
Many college students go through their whole college experience eating meals off plates on their laps in bed or in the living room. While this method can be fun occasionally, having a dining table with seating helps mealtime to feel more social. You can also increase your seating with bar stools if you have an island or peninsula in your kitchen area. Dining room bar stools invite casual conversation with friends at parties. With the right seating in your dining area, you can host parties and have a good time with roommates whether you are eating dinner together, doing homework, or playing games.
A Comfortable Bed
Being able to sleep well is essential to life and at least as essential to having a good college experience. That means that choosing a comfortable bed and a supportive mattress is a must for your college experience. Finding the right mattress can take a lot of looking, especially since different people have very different needs from their mattresses. Take time to look at the mattresses available in local stores and online before making a purchase. Reading the reviews can give you more insight into the pluses and minuses of each mattress.
A Welcome Mat
No one wants dirty shoes in their apartment and a welcome mat can help to solve that problem. It can also introduce your guests to your personal style before you even open the door to let them inside your home. Having a decorated front entry makes your home more appealing to guests who come by. Try getting a fun welcome mat and even adding a plant or two outside your front door. A wreath can bring your style up a notch and make your entryway feel welcoming and complete for all of your visitors.
A Fresh Coat of Paint
If you are allowed to paint your apartment, applying a fresh coat of paint can be a great way to elevate your style and make your apartment look great. Many college apartments are in poor condition, but new paint can brighten any space and make it feel more comfortable. Nice new paint can also disguise scuffs and cover imperfections in your walls. Try to stick to neutrals for the most part but adding in an accent wall or two can make your space feel more like your own. Of course, check with your apartment manager about painting first to determine if this is allowed!
A Comfy Armchair
There is something special about having a comfortable armchair that is all your own. It can be the perfect place to study, cuddle up with a good book, or crash in to binge your favorite streaming series. Choose an armchair that balances comfort with style and that suits the aesthetic of your space. You can find great deals on comfortable furniture in local thrift shops or online marketplaces. Don't settle for a mediocre chair, instead take your time so you can find one that is the perfect fit for your apartment. If you can only find an ugly or boring option, but it is very comfortable, you can often dress it up with a new cover or a throw.
Your college apartment should be a fun place for you to spend the earliest years of your adulthood. You can decorate it in an appealing and affordable way by shopping around and finding great deals. That leaves you in the perfect position to enjoy your space and get the most out of your college experience.
Read this next: How to Prepare for Student Loan Payments While in College