Great Learning Options for Students Who Want to Teach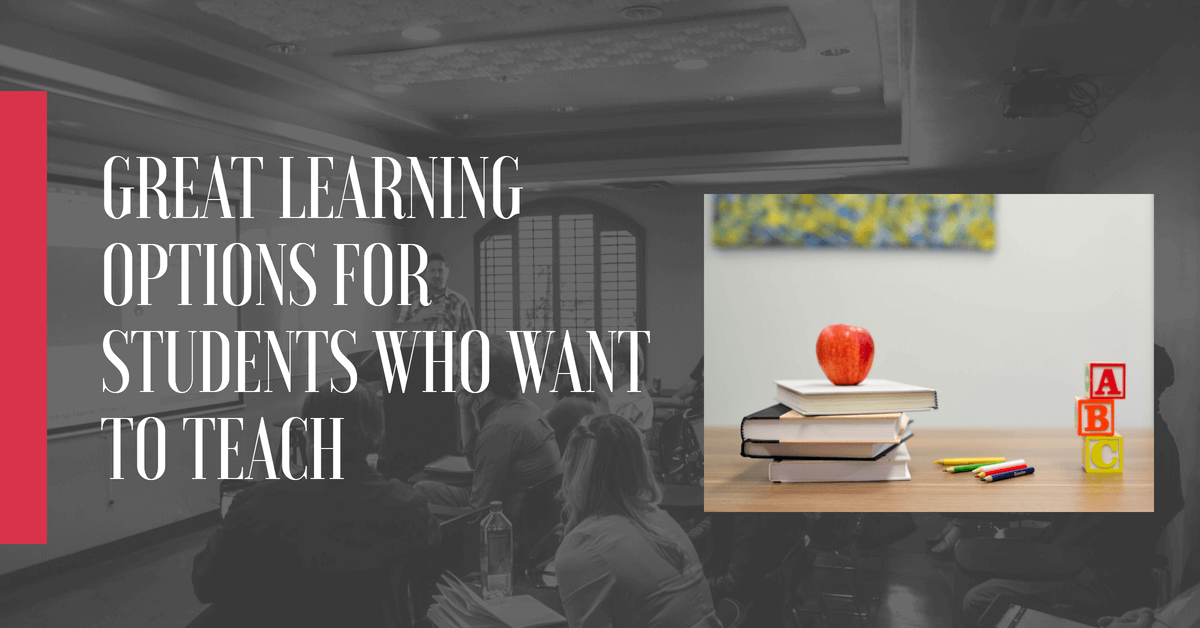 "Experience highly preferred." These words might cause you to reconsider submitting a resume for an open position at all. It's an age-old problem — you need experience to get the job you want, but to meet that qualification, you need to first work in a related field. What to do?
Fortunately, if you want to teach, you have ample options available this coming summer and all year. You have an added advantage at the moment because many schools, camps and parents are scrambling to staff rapidly filling virtual programs. Here are seven ideas you can use to pad your resume and earn extra cash.
1. Tutor
While many tutoring companies require you to have a bachelor's degree or higher, not all do. For example, if you earned high scores on the SAT or the ACT, you might start a lucrative hustle helping wealthy families whose children have not yet sat for these high-stakes tests.
With the disruption caused by the pandemic, summer schools are sure to fill up quickly. Many parents will seek solutions to make up the missed learning. Reach out to local districts that are expanding their summer options and inquire about before- or after-school tutoring opportunities.
2. Teach Summer Camp
If you are in college but haven't yet earned your degree, your school may pay you a stipend to head the extended activities portion of a summer program. Museums, science centers and niche industries likewise offer camps that recruit university students who are training to become teachers to lead various activities. While many local parks and recreation programs may change their offerings due to social distancing requirements, you can also check there for leads.
3. Coach for Online Training Programs
Because of social distancing, many schools have temporarily suspended their sports programs. However, some regions now offer online coaching to help student-athletes keep at the peak of their form until things return to normal. You can find offerings for nearly any interest.
Some community recreation programs also are shifting their focus to virtual instruction. If you don't mind performing for the camera, you could get a gig choreographing a football or cheer workout session for their website.
4. Lead a Summer Library Group
Much to the delight of bibliophiles everywhere, many libraries have begun to reopen in a limited capacity. They also offer a variety of summer programs for youth of all ages. Some locations may have shifted their live reading circles to the virtual world, for example. However, if you can read aloud expressively, you could introduce young learners to the fictional world of "Curious George" and more.
5. Work at a Day Care
Depending on your jurisdiction, your local leaders may or may not have issued closure orders for day care centers. The CDC provides open locations with guidelines — get a leg up on your interview competition by learning the rules. If you hope to teach high school someday and little kids aren't your thing, check with smaller mom-and-pop locations about administrative work. They might be scrambling to keep on top of their emails and books with all the changes. As such, they will welcome a Gal Friday.
6. Become a Nanny
Some families may hesitate to send their children back to public or even private school once things reopen. However, they have to continue to work to afford their lifestyle. As such, they need nannies to help the little ones with online lessons and leisure pursuits. You can register with a referral network or use a website like Care.com to find prospective clients.
7. Design an Online Course
Who says you can't love teaching and embrace an entrepreneurial mindset? Sites like Udemy and Outschool let you design courses in any subject that suits your fancy. Maybe you aren't certified to teach English yet, but do you know how to cook some mean enchiladas or knit a hat? You can capitalize on that talent by designing an online lesson and sharing your knowledge with the world.
Hone Your Teaching Experience With These Summer Job Ideas
If you feel trapped by the "experience highly preferred" requirement on many job applications, have no fear. If you are training to become a teacher, you have plenty of options for summer work that relate to your chosen career.
About the Author
Alyssa Abel is an experiential education writer with a love for learning. Read more of her work for students and educators on her blog, Syllabusy.