For College Grads: Jobs You Can Still Score During the Coronavirus Pandemic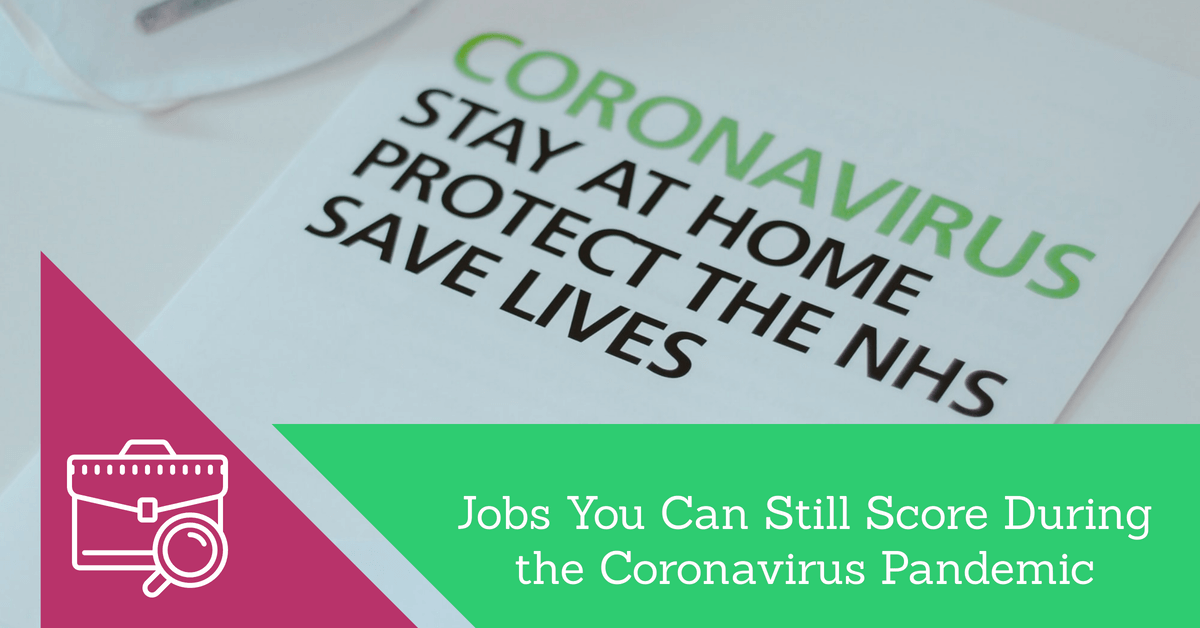 If you recently graduated from college, you might feel like crawling under the covers and sleeping until life returns to normal. However, admitting defeat before you even start your job search is a surefire recipe for depression. Companies are still hiring during coronavirus, but if you don't ask — or apply — the response is always "no."
Yes, finding a job is more complicated now than in previous years, but you're up to the challenge. After all, you just survived four years of rigorous academia, so you are primed to take on the world. As you explore your options, consider the following careers and jobs still hiring during the pandemic.
Industries Still Hiring During Coronavirus
Now is not the ideal time to break into those industries hardest hit by COVID-19. You might want to hit pause temporarily on your plans to open a travel agency, for example. However, any crisis also creates new opportunities. Here are four industries to investigate if you don't want to waste any time in starting your new career.
1. The Health Care Industry
You might have read stories about health care practices laying off workers during the pandemic. However, that isn't due to a lack of need for care professionals — the cutbacks stemmed primarily from the for-profit industry model in the United States. When areas remained under shelter-in-place orders, elective surgeries ground to a halt to preserve vital supplies, like N95 respirators, for those professionals caring for the sickest patients.
If anything, the pandemic highlighted the need for more people in this field, not fewer. This dynamic provides valuable opportunities if you did your undergraduate work in a science-related major. Depending on what credits you have earned, you might not need much if any additional training to obtain your CNA license, for example. You might also consider studying for the MCAT if you see graduate school in your future.
2. The Government
If you are looking for the ultimate benefits package, you can't go wrong with government work. Health insurance? Check, and ditto on pensions. If you can get in as an employee with the Senior Executive Service (SES), you could earn a tidy salary, too. Plus, the possibilities for work are nearly endless.
Due to the extended tax season, the IRS will need new representatives to ease the workload. As the government takes steps to better prepare for future pandemics, they will establish new agencies they need to staff. Don't overlook intern positions — while unpaid posts do exist, many governmental roles will pay you a stipend. You could get your foot in the door with a very secure employer — it's unlikely the government will go out of business anytime soon.
3. Accounting and Finance
Unless society undergoes a sea change and returns to the barter system, people will always need money and professionals to help them manage it.
Many taxpayers have questions regarding the extended tax season, as well as the new rules under the Tax Cuts and Jobs Act. If you haven't obtained your CPA license yet and are putting off grad school for financial reasons, you can earn your EA license while your knowledge of tax law remains fresh. This designation gives you full representation rights before the IRS, meaning you can help people with past liabilities as well as prepping 1040 and 1120S returns.
While folks with investments may have weathered the current storm with few inconveniences, they want to protect their assets. You can become a Certified Financial Planner if you enjoy helping others put their money to work for them. Another avenue to explore if you like telework is bookkeeping — you can help small business owners manage their bottom lines while you stay in your pajamas.
4. Education
Right now, schools are scrambling to make up for lost instructional time and design plans for the coming school year. Parents, likewise, need summer school options for children who may remain at home to make up their studies. If you don't have your teaching certificate, talk to your advisor about what it would take to complete it.
Alternatively, you can look into paraprofessional roles with your local district. Many special education programs will need additional aides to help students with emotional challenges readjust to school after the quarantine. Depending on the rules in your state, you might qualify for a substitute teaching certificate with only your bachelor's degree. This situation allows you to earn money while you pursue your certification if you find you adore working with young learners.
Bridge Jobs to Consider If You Need Cash Now
If you need to support yourself and are worried lengthy interview processes won't help you make ends meet right now, don't worry. The following jobs still hiring during coronavirus can lead to near-immediate employment — and money in your pocket:
Driving for a delivery company: Services like DoorDash and InstaCart have seen demand skyrocket, and they need shoppers and drivers now. If you can do the heavy lifting, UPS and FedEx likewise need workers.
Clerking at a grocery store: Even during a pandemic, people need food, making this job one that has a significant need for more help during coronavirus. If you like working with people, this role can get you out and about, and the improved safety measures can safeguard you from getting sick.
Working as a nanny: Well-to-do families don't want to entrust their children to just anyone, and they may stay away from daycares for a while. They also appreciate individuals with degrees to serve as tutors, not mere babysitters. Consider signing on with a referral service to find a match.
Snag One of These Jobs Still Hiring During Coronavirus and Launch Your Career
Don't throw up your hands and spend your days playing video games — now is the ideal time to find a job in certain industries. Get your resume ready and apply for these jobs still hiring during coronavirus today.
About the Author
Alyssa Abel is an experiential education writer with a love for learning. Read more of her work for students and educators on her blog, Syllabusy.