5 Nonprofits Making a Difference Around the World — And How to Get Involved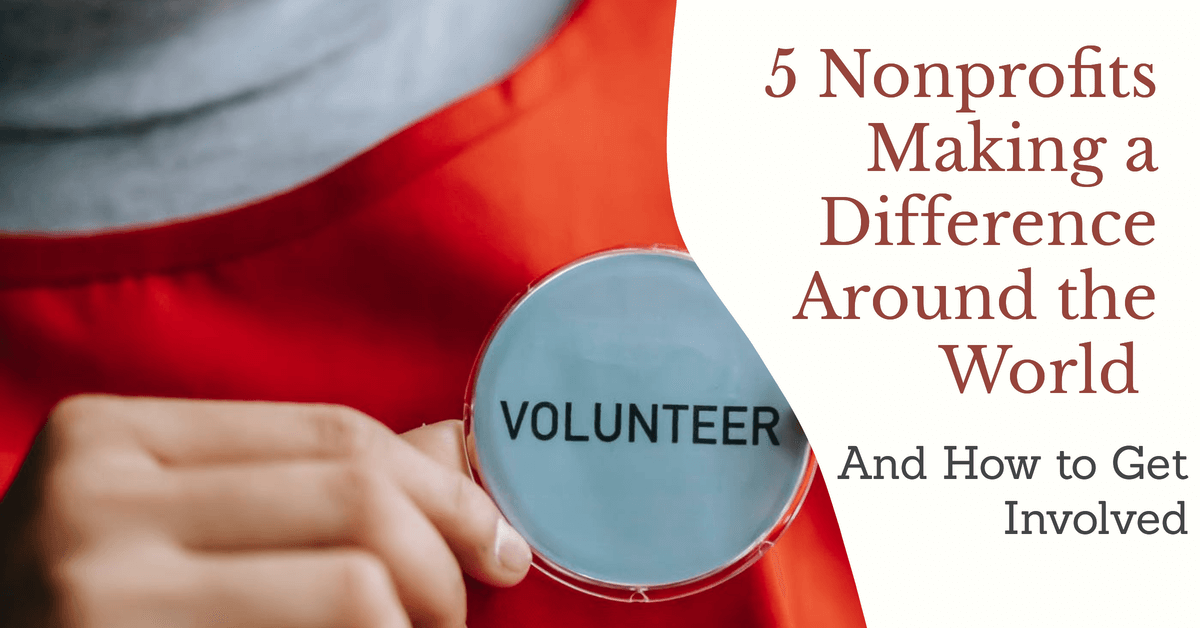 Do you wish to be part of something greater than yourself that can help make a difference worldwide? If so, you've come to the right place.
Around the world, there are many opportunities to get involved in a nonprofit. A non-profit organization aims to further a social cause and provide some benefit to the public. These organizations don't make money off their work and rely on individuals and businesses to donate.
Non-profit organizations allow people to work together for the common good. You can donate your time, money, skills, or items to help a group of people, a community, animals, or the environment. They help heal, feed, educate, shelter, and nurture people no matter their background or where they come from.
There are millions of global nonprofits that you can get involved in, but to narrow that down, here are five nonprofits making a difference around the world — and how to get involved.
1. Doctors Without Borders
Doctors Without Borders is an international nonprofit that delivers emergency aid to people and countries in need, like after a natural disaster, or address a lack of health care or epidemics. They have developed and produced kits to easily hand out within hours of need. Additionally, they have supply centers worldwide.
The organization began in 1968 when some doctors decided to help war victims and significant disaster recovery. It reinvented what emergency aid means. You can take action by donating to the nonprofit, attending one of their events, and standing with refugees. You can also volunteer by contributing your time to one of the global offices. Internship opportunities are also available.
2. CARE
CARE is another non-profit organization making a difference in the world. The organization helps with crises, food, water, health, education, climate, and equality. CARE works in over 100 countries and has reached over 90 million people worldwide.
There are a few ways to get involved in CARE's work. You can attend events or trips to meet advocates and join the fight against global poverty. You can also organize your own event to spread awareness in your community. CARE provides opportunities to volunteer as well, and they always appreciate donations.
3. Anera
Anera helps refugees and others who have been hurt by conflicts in Jordan, Palestine, and Lebanon. They provide immediate emergency relief. Additionally, for long-term care, they offer resources for health, economic development, and education. They aim to give dignity and purpose to those people once again.
You can volunteer for Anera, too. Participate in the Combined Federal Campaign (CFC) by participating in an event or raising awareness. You can participate in a Middle Eastern or Arab Festival, too. Fundraise, attend an event, or make a one-time donation to this organization helping people worldwide.
4. Globalteer
Globalteer focuses on providing better opportunities for both humans and animals in need. The organization is one of the volunteer abroad nonprofits that offer opportunities for you to participate in responsible, local projects for communities in need. Their focuses are on nutrition, sports, education, child protection, community development, animal welfare, women's empowerment, and international volunteering.
Volunteer opportunities are available for anyone, no matter their age. Solo travelers and groups can be part of something bigger than themselves that helps others across the globe. Various international volunteer programs are available, so you can be sure to find something you'll enjoy.
World Wildlife Fund
Finally, if your heart is geared for helping animals and the environment, you can volunteer or donate to the World Wildlife Fund. Their goal is to conserve nature and reduce the threats to Earth's environment and diversity. The World Wildlife Fund focuses on oceans, wildlife, forests, clean water, food, and climate.
You can take action by speaking up and speaking out for Earth. Make a change in your life by switching to eco-friendly practices and products. Search for trips on their website where you can travel to learn more about the world and its impact on the environment.
Making a Difference for the Better
When you choose to volunteer or donate to any of these non-profit organizations, you choose to make a difference in the world. Whether you pick one of the above nonprofits or one in your community, you'll understand the importance of helping others and the earth.
About the Author
Ginger Abbot is a freelance writer and the Editor-in-Chief of Classrooms, an online learning magazine for students, graduates and educators.