Surprising Ways the Pandemic Has Affected Our Health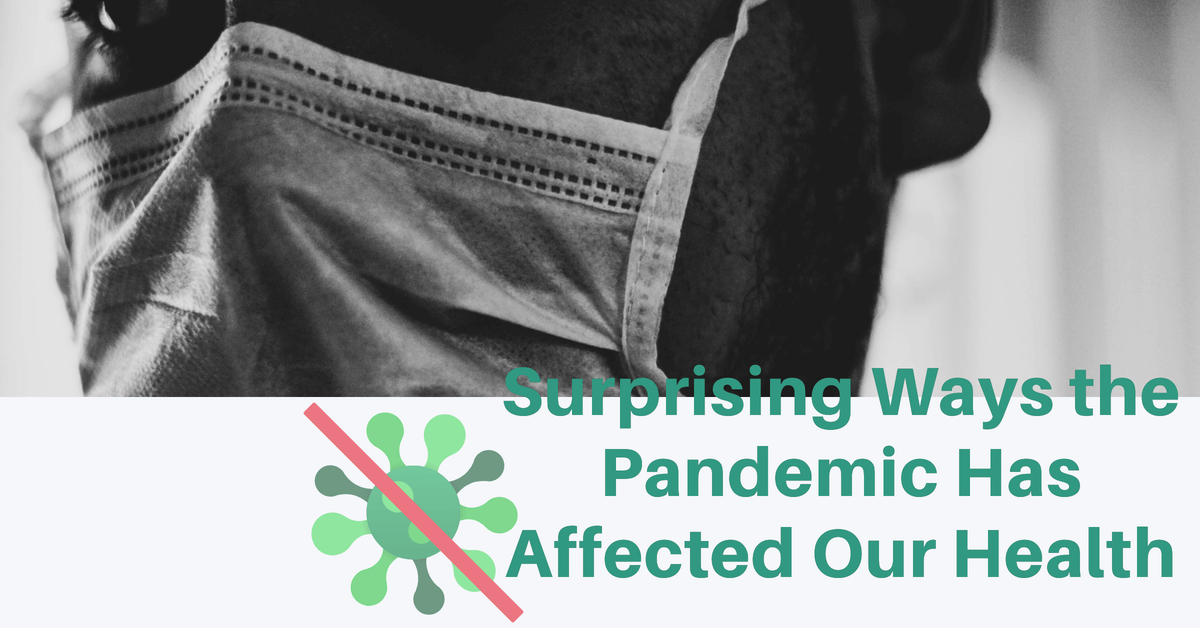 It would be rare to find someone who feels unaffected by the COVID-19 pandemic. It uprooted our lives and made us adapt to significant life changes. Many people got through this tumultuous time, but lasting effects are rippling through our communities.
Surprisingly, quarantine had positive and negative impacts on us, both physically and mentally. Some took the time to reflect and make positive health changes, like increasing their physical activity or trying a new diet. Others found it challenging to cope with the unique stressors and are dealing with anxiety or depression.
Here's how the pandemic has affected our health and why it continues to take a toll on us.
Positive Health Shifts
Finding the silver lining in a negative situation is never easy. Still, many people were able to do it during the peak of the coronavirus pandemic. With more time spent indoors, some positive changes occurred that are worth opening up a discussion about.
1. Finding Comfort in Quarantine
Some introverted people found comfort in living alone or closed off from members of their household. Those that hate crowds and prefer spending time by themselves viewed quarantine as a safe haven.
Settling safely at home became the norm for us, and some people were able to thrive during this time. Many introverts experienced less stress and social anxiety due to the pandemic.
2. Getting in Shape
Exercise became a saving grace for many people locked up in quarantine. Because gyms were closed to the public, active people had to scramble to find alternatives. Research shows that more men reported working out — 60% exercised before the pandemic, which increased to 74% during quarantine. In addition, people purchased at-home workout equipment regardless of their current physical activity level. Some saw this time as an opportunity to get in shape because no one knew when lockdown would end.
3. Eating Mindfully
Ordering groceries to our doorstep is easier than ever. During quarantine, individuals had more time on their hands to shop carefully and put more thought into what they were eating. People explored new diets, considered meal kit delivery and focused on foods that would help them lose weight.
4. Quitting Smoking
There were some major positives when looking at how the pandemic affected physical health. Some smokers decided to quit during the pandemic. In one study, 37% of respondents reduced their cigarette use. As there was an increase in risk perception, there were increased chances that a smoker would quit and avoid relapse.
Negative Health Shifts
Aside from dealing with COVID-19, other health issues were prevalent during the height of the pandemic.
1. Coping With Loneliness
It's no secret that isolation from friends and family caused us to feel lonely. Research shows that 36% of Americans felt serious cases of loneliness during the pandemic — this includes around 61% of young adults. As people were exposed to the virus, it was challenging to spend quality time with friends and family. Limiting the spread was the priority, but it meant less personal interaction and more social distancing.
2. Higher Stress and Depression Levels
There were many ways how the pandemic affected mental health. There was an increase in people reporting higher levels of anxiety and depression during the pandemic, with the most significant increases seen in young adults ranging from ages 18-29. Many people were forced to adapt to a new reality. Wearing masks when leaving the house, transitioning to working from home and changes to daily routines caused increased mental health issues.
3. Doctor Visit Hesitancy
Primary care physicians saw a steady drop in patients coming in for routine checkups. Many patients felt that telehealth and virtual doctor's visits were the only way to avoid COVID-19 exposure. Fewer people visiting their doctor can cause general health issues to get worse.
4. Substance Abuse
One of the major health effects of the pandemic was that those who use drugs were found to be at a higher risk of developing severe cases of COVID-19.
Drug overdoses were on the increase before the pandemic, and this number will likely keep rising. Like many national issues, the COVID-19 shined a spotlight on the problem of substance abuse.
Focusing on Health in the Future
Because the pandemic was something we've never experienced before, it was challenging to know how to respond appropriately. As we look at ways COVID-19 has changed our health, we must do so with a positive attitude.
There were both positive and negative impacts on our mental and physical health during quarantine. We must do our best to support each other in dealing with these health issues and working toward a brighter future.
About the Author
Ginger Abbot is a freelance writer and the Editor-in-Chief of Classrooms, an online learning magazine for students, graduates and educators.