Cool Tech for College Students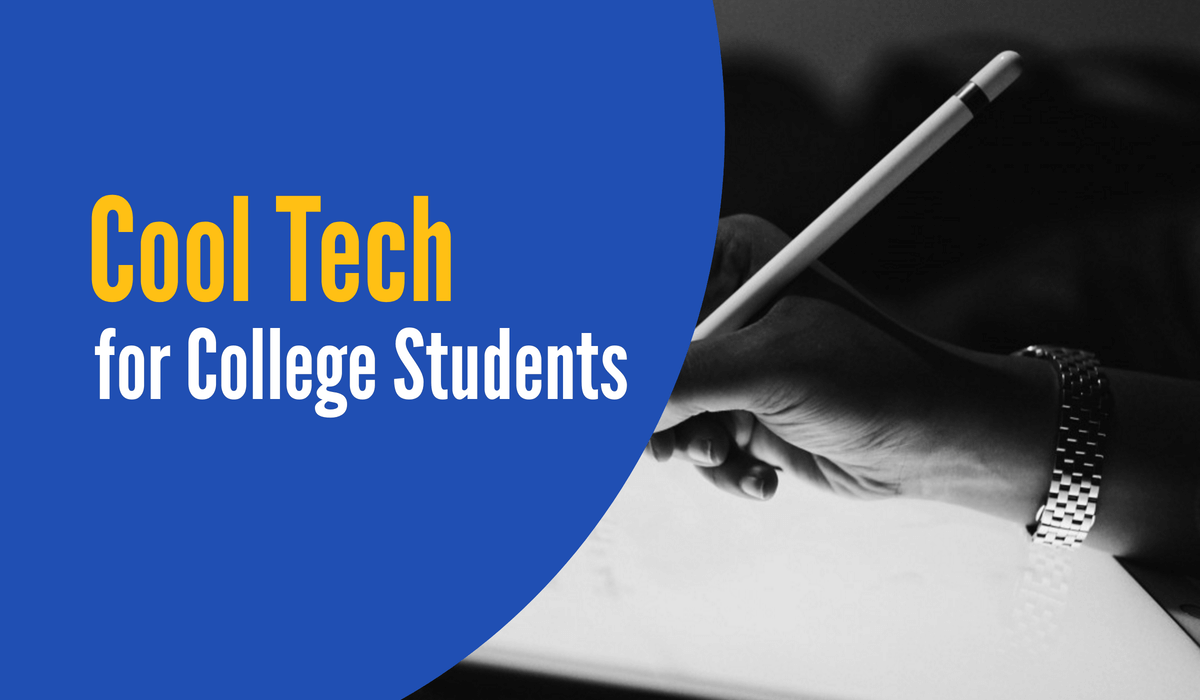 Technology is growing faster than ever before. It is more common in the 21st century for teachers and students to use technology in the classroom. Having technology skills are crucial for students to enhance their learning experience inside and outside the classroom.
Here is a list of cool technology for college students to use to improve their study experience
1. Digital Tablets
Carrying a lot of notebooks around is sometimes too much to handle. Using a tablet to take notes will make your life more organized. If you make writing mistakes, you can edit it without the need a correction pen or to rip the page out. You can easily edit, erase, or organize your notes beautifully with a tablet, unlike traditional notebooks. Also, some tablets come with stylus, a digital pen that allow you to freely write, draw, or work on your mathematical expressions. Some tablets also have the features to play and record audio which can be helpful for students.
2. Digital Textbooks
There are many online textbooks available for students. The thing about digital books is that you do not need to carry them around which make it less of a heavy burden. It is all at your fingertips. Make sure your course offers an option to purchase a digital book.
Google Drive app lets you take notes, draw diagrams, create spreadsheets, design and store them all in the cloud. It gives you up to 15 GB of free online storage. You can access the files anytime and anywhere from any smartphone, tablet, or computer.
Dragon Remote Microphone is a useful app to have if you need a dictation tool for typing notes. Just talk naturally and it will convert it to text for you, saving you the headaches of typing it all out. It will give your brain a break from the ridiculous studying, writing and revising a bunch of assignments.
Typing using a tablet is sometimes wearying. If you prefer to write down notes on a tablet just like writing on paper, MyScript may be the solution for you. MyScript is a software that let you handwrite just about anything you want using your tablet. The program integrates with almost any stylus pen. You can write text in any language such Chinese, Japanese, Hebrew, and Cyrillic characters. You can also write mathematical expressions, geometric shapes, and musical notation easily, using the app.
Evernote is an app that you can use to write notes, checklists, to-do lists or just about anything you wish. You can "capture, organize and share notes from anywhere". It readily syncs the files to any device. It is a great way to collaborate with friends.
xMind is "The Most Popular Mind Mapping Tool on the Planet." It lets you create mind mapping plans, and helps in collaboration of ideas to boost productivity. It is great for students or businesses to brainstorm and layout ideas.
Adobe Creative Cloud is a must-have-software if you are a graphic design student. The cost is affordable for students at just 19.99/month USD for all apps. You can use it on a desktop and mobile devices. It comes with a portfolio website, premium fonts, and 20 GB of cloud storage.
Affinity products are the best alternatives to Adobe products. These products are offered by Serif, a company based in Nottingham, UK. If you are a graphic design student, having Affinity Photo and Affinity Designer software will serve you in the long run. There is no subscription fee and the price is also affordable.
10. Kindle Paperwhite/Amazon Kindle
Amazon Kindle is slightly smaller than most tablets and bigger than cell phones. It is easy to carry around. You can use it to read your e-books. The price is also cheaper than most tablets.
Have you tried any of these cool tech ideas? Let us know what you think about our list by leaving a comment below!