What to Know if You're Considering a Military Career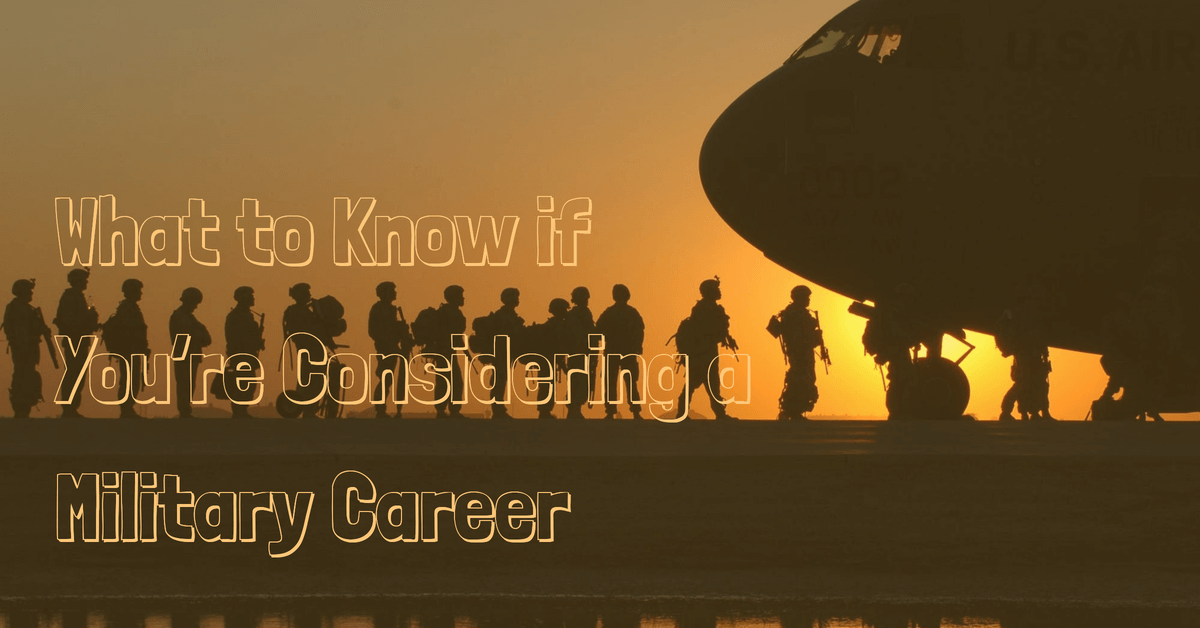 Anyone in high school has likely met a military recruitment or armed forces officer. Whether they gave an entire speech about the military, administered the ASVAB or CFAT, or set up an information table in your lunchroom, you've seen — and maybe spoken to — those uniformed service members before. More importantly, you're aware that the force offers a one-of-a-kind experience for those who enlist. What does that experience really look like, though?
Your recruiter has probably told you about the pay, health coverage and other enticing benefits. However, most aren't especially eager to divulge the physical and mental requirements to join.
That said, here's what to know when joining the military — the good, the bad and the ugly.
1. You'll Have To Pass Aptitude Testing
Once you've talked to a recruiter, you'll pick a day to visit the testing station or sign up for an online administered test. There, you'll finish the enlistment process and take the Armed Services Vocational Aptitude Battery test in the U.S. or the Canadian Forces Aptitude Test. This multiple-choice exam will help you determine which military careers might suit you best. If you already took the appropriate aptitude test, ask your recruiter if your results are still valid so you don't have to go through another three hours of testing.
2. Physical Fitness Is Essential
Before enlisting, it's wise to research the physical requirements of whichever branch you'd like to join. Every unit has specific, strict requirements and tests that you must pass in order to enlist. Most branches also administer a physical fitness test once or twice a year to ensure you stay in peak shape throughout your entire term of service.
3. Finances Can Still Be an Issue
Everyone on active duty receives base pay. This monthly payment may range anywhere between $1,681 and nearly $20,000, depending on rank and how long you've served. Some recruits will also receive free housing, clothes and food if they live in military barracks. Meanwhile, those who live off-base may receive a monthly housing allowance.
Still, financial issues can be a challenge for those you leave behind during deployment. Create a family emergency plan and make a will to help your family prepare for any unexpected expenses.
4. Picking a Career Can be Tricky
After you pass the physical examination and get your finances in order, it's time to sit down with a counselor and choose a career. You should join a branch that offers jobs within your field of interest.
Talk to your counselor about which branch and military occupation specialty is right for you. They'll often use your aptitude test results and personal interests to help you find one you'll enjoy for your entire career. Look for specialties that might translate well to civilian life after your time in the military comes to an end.
5. You Can't Quit
There is no hard-and-fast rule on how to prepare for joining the military or armed forces, but one thing's for certain: You must know for sure that military life is for you. Once you enlist, there's no way out. You can't quit. You must complete your term — no ifs, ands or buts about it.
Your life as a service member will look different from civilian life. Under the Uniform Code of Military Justice, you'll have fewer rights and stricter consequences. If you don't obey your commanding officer or the president, you can go to prison. If you believe you're ready to embrace this new life and adapt to the rules and routines, a military career may be right for you.
Should I Join the Armed Forces?
Joining the military isn't for everyone. The journey to enlistment and a military career is difficult, jarring and, at times, painful. However, if you consider the many benefits of a military rank, the reward might be worth the physical and mental investment.
As you consider whether or not the military is right for you, talk to friends and family who have walked the road before you. How have they grown as a person since joining? What did they learn? Do they regret their decision to enlist? Listening to their experiences and conducting your own research should be enough to help you make the right decision.
About the Author
Ginger Abbot is a freelance writer and the Editor-in-Chief of Classrooms, an online learning magazine for students, graduates and educators.