How Tutoring Can Help You Get Into College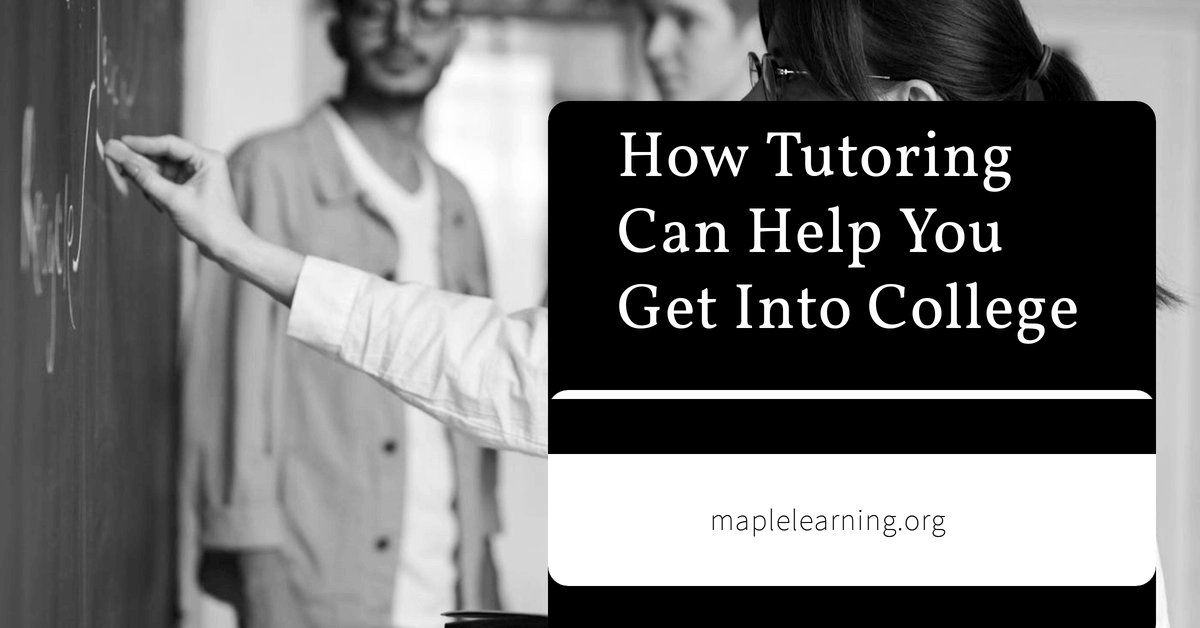 Do you feel bogged down by homework? Are you wishing school assignments didn't take up so much time?
You're in high school, so there are many expectations to meet and tasks to accomplish. It can quickly become overwhelming, especially when you consider that teachers divide their attention between dozens of other students.
Factor in that SATs, ACTs and practice exams are lurking around the corner. And, you have to finish writing your college admissions essays. Mind you, this is also while balancing sports, extracurriculars and your social life.
So what can you do? Sign up for tutoring!
The Benefits of Tutoring
Tutors are an asset and tool you can use to help you achieve your goals. Look at them as a stepping stone on your path to success. If you're struggling with a concept, they can help. If you want to score higher on placement exams, they can assist with this. And if you want to develop skills that set you apart from your peers, they can help you achieve that too.
With a tutor's support, the world once again becomes your oyster. Learn a new language or ace your AP class. You can do anything if you're determined to take the right steps.
Various tutoring types cover an abundance of topics. Consider the type of assistance you want. Private tutoring can provide a personalized experience with a structure that fits your needs. General academic tutoring may be offered for free at your school, but the sessions may be generic or include other students.
Tutoring centers offer courses for standardized test preparation, so see if there's one near you. If there is, consider if their course outline fits your desired learning style. Online tutoring typically offers the most flexibility and convenience for its price. It can be a great resource, especially if you only need help on a specific topic rather than an entire course.
Check out the four ways tutoring can help you below:
1. Boost Your GPA
Even star students can benefit from tutoring. Many tutors are college graduates who have been in your shoes and can prepare you for college standards.
In the United States, 1.2 million students quit high school every year. Those dropouts will earn $200,000 less during their lifetimes than their peers who graduated high school, and approximately $1 million less than a college graduate. Enrolling in an academic support system will provide you with the assistance you need to boost your GPA.
So how does tutoring improve grades?
It's not like waving a magic wand where suddenly your grades fly from Cs to As. You have to complete your assignments and put in the effort. The services you receive will grow your understanding of a given topic and guide you toward achieving higher grades.
Learning will be more pleasant because you'll have someone encouraging and supporting you. You can take things at your own pace and receive education in ways that are easier for you to understand.
2. Reduce Stress
Did you know that 25% of high school students say homework is their greatest source of stress?
An abundance of homework can take up precious after-school hours, leading to frustration and lack of motivation. Your assignments shouldn't suck up all your time and attention. The lessons you learn in school are often built upon using practice problems, which means if you get stuck on a topic, your homework becomes increasingly complicated.
Instead of feeling stressed, enlist the assistance of a tutor to aid you in crushing your coursework. Your confidence will grow, and you will have more free time to spend with friends and family.
3. Perform Better on College Applications
Believe it or not, some tutors specialize in college applications.
Maybe you feel confident about the essay you've written, or perhaps you're a little nervous. Either way, wouldn't you want someone to take a second look at what you've written? A tutor could provide you with their expert opinion, which might be the difference between being accepted or rejected at the university of your dreams.
A professional can provide you with advice on every component of the college admission process. That includes test prepping and determining what university is best for you. They'll even offer guidance on how to write and edit your essays. An experienced tutor will build your communication skills and develop a step-by-step action plan to be utilized during your junior and senior years.
4. Create Healthy Habits
In high school, you often forget to focus on creating good study habits. You might think procrastination is your middle name, and that's okay because it's worked for you so far.
But guess what? Creating healthy habits is pivotal to your success in college.
Students with strong academic engagement are more likely to achieve degrees — and complete them at a faster pace — than their less engaged counterparts. This includes studying, taking notes, completing assignments and seeking help when needed.
Tutors are just as beneficial in college as they are in high school. Becoming accustomed to academic support before beginning your degree can save you time and energy. Your previous experience will guide you because you will have developed skills that last a lifetime. Best of all, you'll feel confident asking for assistance when the time comes.
College, Here You Come
Tutoring for college can be an awesome experience. Numerous benefits will help steer you toward your goals. With higher grades, a dazzling college application essay, less stress and new healthy habits, you will be unstoppable.
About the Author
Alyssa Abel is an experiential education writer with a love for learning. Read more of her work for students and educators on her blog, Syllabusy.