7 Important Office Tools for Working or Studying at Home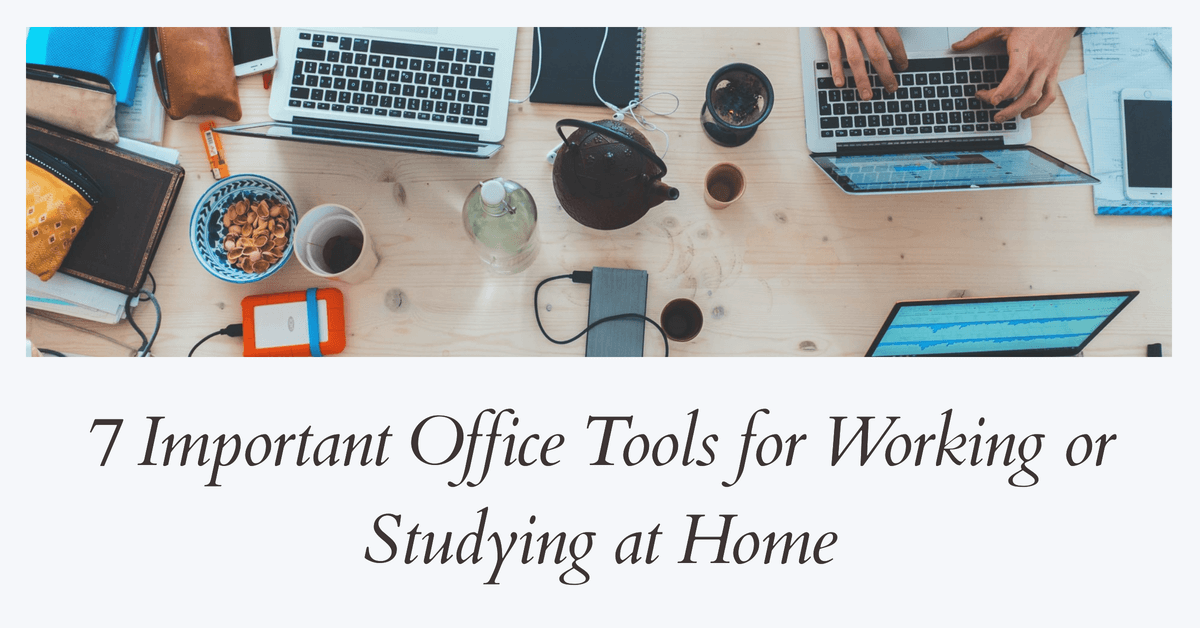 More people than ever are working from home, whether for their jobs or classes. Rather than set up shop at your kitchen counter, you might want to invest in some equipment and supplies to make the experience better. This way, you'll have the correct tools to do your work.
Here are seven essentials for distance learning and remote working that will make things much easier as you navigate your at-home environment.
1. A Desk and Chair
Every home office should have a comfortable desk and chair. After all, you'll do all your work in that location. It should be a place where you want to watch lectures and take exams, so be sure to browse different options.
Consider the differences between regular and adjustable desks so you select the most suitable one for your work style and space. You should also test out desk chairs. Make sure the seat you pick offers proper support for your back. If you splurge at any point, you may want to put your money toward the desk and chair so you have the most comfortable setup possible.
2. A Set of Binders
Remember that just because you're in online work or school doesn't mean you won't have to print documents. Plus, you may want to take physical notes in classes or meetings. That's why you should have a binder set handy to organize your records.
Keep a few on your desk so you have ready access to them.
3. Headphones or Earbuds
Unless you like to work in total silence, you'll want to buy headphones or earbuds to listen to music or podcasts. This gadget will come in handy for lectures, meetings and whatever else you may need to do while working. You may want a wireless pair, which will help you move around when you take calls and attend meetings.
4. Necessary Software
You might need to download software to complete your duties. For example, you probably need access to Microsoft Office Suite so you can work on research papers, slideshow presentations and more. Additionally, you might need specific programs to turn in projects.
Be sure to download all the software you need to do your work correctly.
5. A Planner
Not everyone likes to use online calendars. If you're better with physical notebooks to help you manage important dates, you may want to pick up a planner. It'll be a great way to organize deadlines and appointments so you never miss them.
6. Extra Computer Gear
While you may not technically need more than your laptop to get your work done, you could benefit from a few extra accessories. Additions such as wireless keyboards, flash drives, camera attachments and more can help you be a better employee or student. Be sure to look into other equipment that could improve the work-from-home experience.
These home office supplies will come in handy as you navigate working or learning from home.
7. High-Speed Internet
Without high-speed internet, you probably won't be able to do your best work. Therefore, you should ensure you have a strong and reliable Wi-Fi connection. If you find that your internet seems to cut in and out from where you're located, you should consider an ethernet cable as a way to make the connection stronger.
Try These Essentials for Your Work-From-Home Setup
There's not much worse than an uncomfortable work or school setup. Therefore, you should invest in these items so you're ready to tackle each day as it comes. These supplies will help you create the best atmosphere possible for working or learning from home.
About the Author
Ginger Abbot is a freelance writer and the Editor-in-Chief of Classrooms, an online learning magazine for students, graduates and educators.