7 Careers You Can Pursue Through Online Courses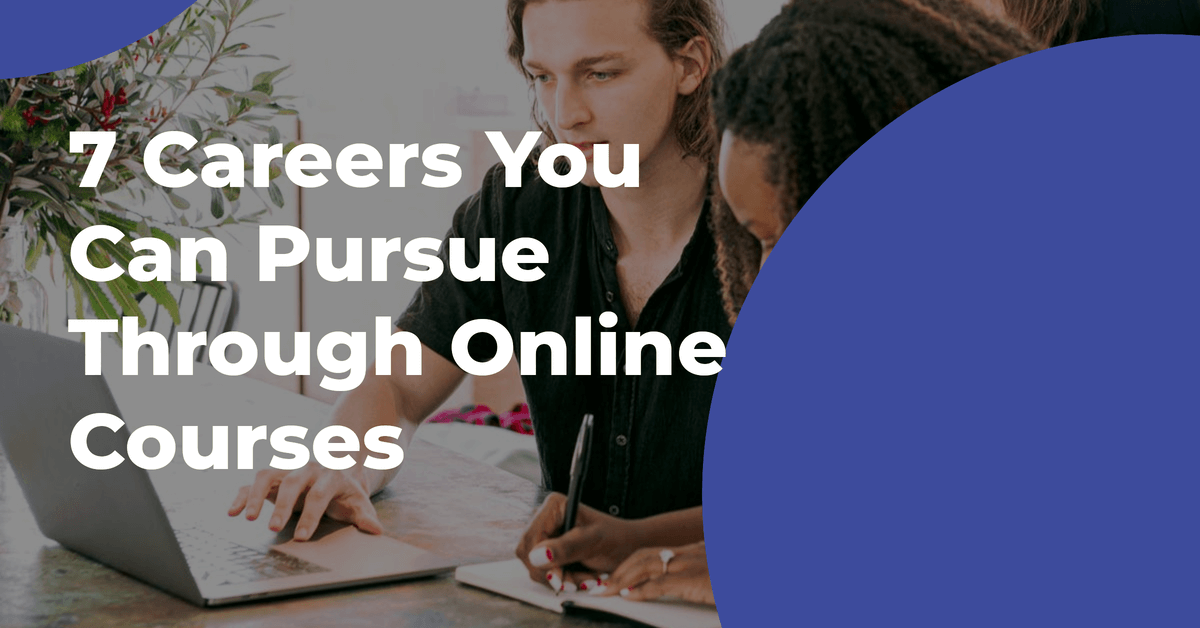 When you picture yourself going to college, you imagine attending classes that will get you a high-paying degree. You'd strive for perfect attendance and do everything in your power to get good grades, but motivation isn't always enough. Some people can't go to a college or university because they work full-time, have a family to take care of or can't afford the tuition.
If you wish you could start or change your career with a college degree, it's time to get researching. Administrators in higher education know it isn't as accessible as it should be, so they've created online opportunities for students to earn their degrees in ways that fit their lifestyles.
Looking to get a jump-start on your future? Check out these seven careers you can pursue through online courses. Depending on your interests, skills, schedule and budget, you might find one that's perfect for you.
1. Professional Web Design
Businesses that don't create an online presence for themselves rarely succeed anymore. People live and breathe through the internet, which makes websites crucial for any brand. Site quality can make or break a company, which is why so many hire professional web design developers to do the work for them.
You can take all the classes you need to learn about web design right from your computer. Study programming languages, practice designing elements and learn about how to set up robust security measures. It's an open-ended career you can use anywhere, so it's an excellent option for those who love the web.
2. Management Information Systems
Anyone who identifies as a people-person and loves to help others may like the management information systems world. This program lets you learn about how to store data and produce reports that make business operations possible. You'll coordinate with a company's many different departments and work one-on-one with their managers, so it's an important position that garners respect.
If you choose this degree, you'll learn multiple query languages, software systems and more from the comfort of your home.
3. Marketing and Communications
Think about the last time you learned about a new restaurant special, got a newsletter in your inbox or read an informative article. The only way companies can get that kind of information out to the public is through their marketing and communications team.
Develop these crucial skills by taking online courses during your free time. After you earn your degree online, you can explore potential career options that wouldn't be possible without your education. You might manage a company's social media accounts or become a public relations specialist for a high-profile firm.
4. HR People Analytics
The Human Resources department has many different sub-departments that help a business run. When you get your HR People Analytics degree, you can work alongside the individuals who help everyone on the team succeed. You'll study how people interact and further your future career by jumping into the hiring process. There's plenty of room for growth and many opportunities to try on different hats that interest you.
5. Healthcare Business Administration
Doctors and nurses save lives every day, but they couldn't do their jobs without healthcare business administration workers keeping hospitals and clinics open. You can assist patients by getting this degree and helping them understand their time in the medical system. Study health care laws, medical tech and regulations, so you can aid patients, doctors and everyone in-between.
6. Animation Program and Developer
You might think animators only work at movie or TV studios, but you can do so much more with this kind of degree. Anything that requires digital graphics, special effects or any visual media needs an animator to make it happen. You can also find jobs with ad agencies or any business that needs to create promotional material.
7. Technical Communication Writing
There are many forms of writing, but technical writing will always have open job positions. If you get this degree online, you'll take technical information about IT systems and engineering or science programs and translate it into easy-to-understand formats. You might write instruction manuals or help files to assist others in learning about a computer system or product.
Experts project the field to grow at least 8% by 2028, which is more than most other occupations that use technical or scientific products. There will always be someone who needs to understand how to navigate a tech program, and you could be the person to make that happen.
Consider Your Skills and Take Classes Online
What do you enjoy doing, and what do you want to learn? There are online courses for whatever career you want to pursue. Find what you're passionate about, and the hard work you put into your higher education will be worth it.
About the Author
Alyssa Abel is an experiential education writer with a love for learning. Read more of her work for students and educators on her blog, Syllabusy.