8 Things to Keep in Mind for Winter Travel as a Student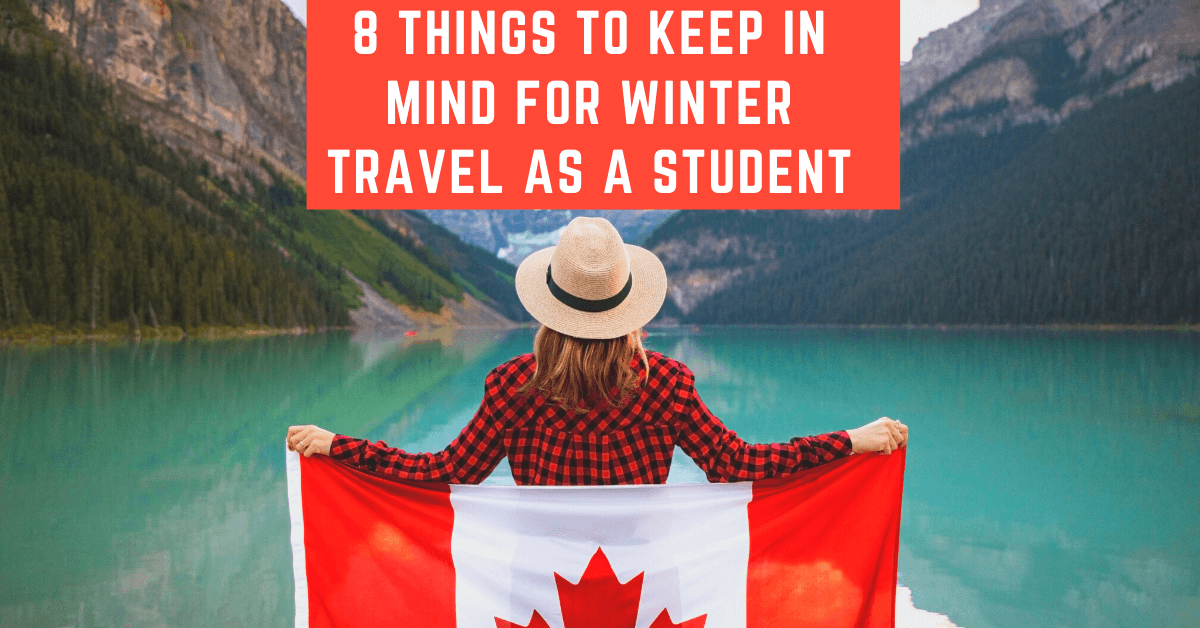 Winter break is one of the best times of the year. You might have big plans to visit a ski resort or travel home to see your family. No matter what you're looking forward to, these are a few things to think about for winter travel plans. You'll have a better vacation by planning for each step of the way.
1. Research Upcoming Weather Patterns
If you've only been around your university's town, you may be in for a surprise when you leave. Canada's west coast is generally warmer than the east coast, which might help you decide what winter activities to do. Understanding the weather forecast is one of the things to know about travel this winter so you can pack and prepare accordingly.
2. Learn the Local Languages
English is the primary language in most of Canada, but French is also popular. If you travel to Québec, you'll find that it's the only language spoken in the province. Still, you'll find people who speak English and include it on signs, so you shouldn't feel too lost if you don't know much French before leaving school for your break.
3. Bring Necessary Documents
It's vital to ensure you have your identification ready. Travel officials need to verify it before anyone can fly out of the country. Students with Canadian identification from a federal, territorial or provincial government should keep it close as it features your full name, photo and date of birth. If you're from a different country, bring your passport or NEXUS card to the airport.
There's also the issue of COVID safety requirements. Unvaccinated individuals are not allowed to travel within or outside of Canada. Otherwise, you'll face fines. Vaccinated people can travel to and from Canada by presenting proof of their vaccination status and may need to submit a molecular test, depending on their travel plans.
4. Prepare for Your Trip
There are a few other things to think about for winter travel this year. You'll need to save enough money for your trip, bring necessities that pass airport or border control regulations, and schedule any post-travel quarantine time into your school calendar.
Students should also plan the more minor details of their big winter trip. If your friend is picking you up at a specific airport, check for parking rates they might have to pay while waiting for your flight to land. Map any routes you have to drive to time your arrival and figure out how much entertainment you can fit in. The more details you plan, the better your winter break will be.
5. Save for Your Travel Plans
The average cost of jet fuel has decreased over the past four months, but it's still higher than this point last year. Higher prices result in costlier plane tickets. Save as early as possible to afford the departure date and time you need. Your money could also cover gas for your car if you need to drive for your big winter plans.
6. Keep Your Apartment Safe
You may not need your apartment for a week or longer this winter. Although it's freeing to hit the road, don't forget to keep your place safe while you're gone. It's one of the many things to know about travel this winter that people often overlook. Leave your cabinet doors open to keep your pipes from freezing and plug your drains to protect against roach infestations. They're just a few things you can do to protect your belongings before you return.
7. Create an Emergency Kit
Everyone should create a quarantine emergency kit as part of learning how to prepare for travelling as a student during COVID. You might have a required hotel quarantine at your destination or a Canadian quarantine when you get back. An emergency kit that contains personal care supplies, snacks and over-the-counter medicines will keep you comfortable during your stay.
8. Stash Extra Supplies in Your Car
Anyone driving by car should also pack emergency products. Bring a window scraper for ice, keep an extra tire in your trunk and store a blanket in your backseat. If you need to pull over or change your tire, you won't become stranded without what you need to stay safe.
Prepare for Travelling This Winter
These are just a few things to think about for winter travel this year. Use these tips to plan every step of your upcoming trip and you'll have a great time while you're away from school.
About the Author
Ginger Abbot is a freelance writer and the Editor-in-Chief of Classrooms, an online learning magazine for students, graduates and educators.