5 Tips for Finding an Apartment in College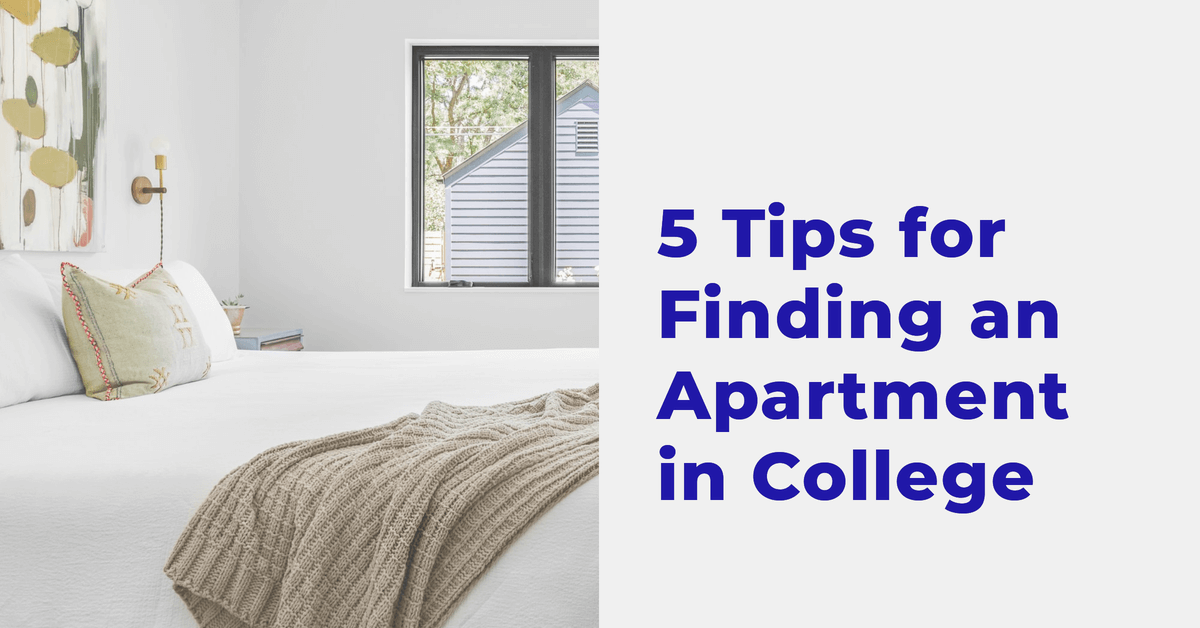 Are you looking for a college apartment? It can be a confusing process when you've previously lived in the dorms. You have to look for a space that aligns with your budget, wants and needs. Fortunately, you can take steps to make everything easier.
Here's how to find an apartment in college that you'll love coming home to.
1. Create a Monthly Budget
The first thing you'll need to do is look at your finances. How much can you afford to pay in rent and utilities each month? The figure you come up with will depend on your situation. You can ask yourself these questions as you create your budget:
How do I earn an income?
Is anyone helping me pay rent or utilities?
Do I have enough cash for a deposit?
Will I be able to pay for groceries, parking, activities and other expenses?
Should I get a job to help me afford things?
Try to formulate your budget around your answers. It's crucial to ensure you have a steady income so you can stay on top of your monthly bills. People tend to forget external factors like groceries — and they end up biting off more than they can chew.
The best money-saving tips for an apartment start with a budget. Make a plan to cut down on eating out and drinking alcohol. Choose cheaper options, such as used textbooks, so you can thrive financially.
2. Ask Friends for Recommendations
If you're having trouble finding an apartment, you should ask your friends for help. This trick works especially well in college towns where places can go rather quickly. Inquire about different rental companies and landlords so you can make the right decision.
You could even take over a friend's lease. If they're graduating from school or moving somewhere else, you can work with them and their landlord to transition the apartment to you. It's also a smart idea to see whether your friends need a roommate. That allows you to split costs in half so everything is more affordable.
3. Figure Out Lease Periods
The standard apartment lease lasts for a year. That said, you'll notice different periods of time are considered a year. Your school year may last from May to May, but your potential apartment may be available from August to August. That means you may not have a place to stay until school starts — and your lease won't end until after school does.
If you only need a space for six months, you must keep that in mind. You can always sign a year-long lease and find someone to sublease from you later, or it may be better to sublet from a current renter. In any case, you should look ahead to your school year.
4. Think About Wants and Needs
It's essential to consider your wants and needs. Your apartment's location, safety, amenities and size have to be at the forefront of your search. You may not be able to tick every box. That said, you don't want to find yourself in something unsafe or isolated.
Try to find a space you can afford that hits your most essential requirements. For example, you might need parking more than you care about in-unit laundry. Be sure to ask questions to ensure you don't overlook any points in your search.
Figuring out your wants and needs can help you better learn how to save up for an apartment, too. This way, you won't come up short.
5. Stay Involved With Campus Life
If you're moving from a dorm, you may feel more isolated when you're off-campus. This aspect can be great because you're more independent. However, you could become too removed to the point where you get sad or lonely — especially if you live alone.
That's why it's smart to be involved in on-campus activities. Do your best to join a few clubs or organizations that interest you. A job can also help you get out of the house while you earn spending money. Either way, you should consider taking steps to ensure you're happy living off-campus.
Use These Tricks to Learn How to Find an Apartment in College
Hunting for an apartment in college can be a tricky endeavour. As long as you consider these tips, you should be able to find a great space.
About the Author
Ginger Abbot is a freelance writer and the Editor-in-Chief of Classrooms, an online learning magazine for students, graduates and educators.