Adjunct Professorship - A Career in Limbo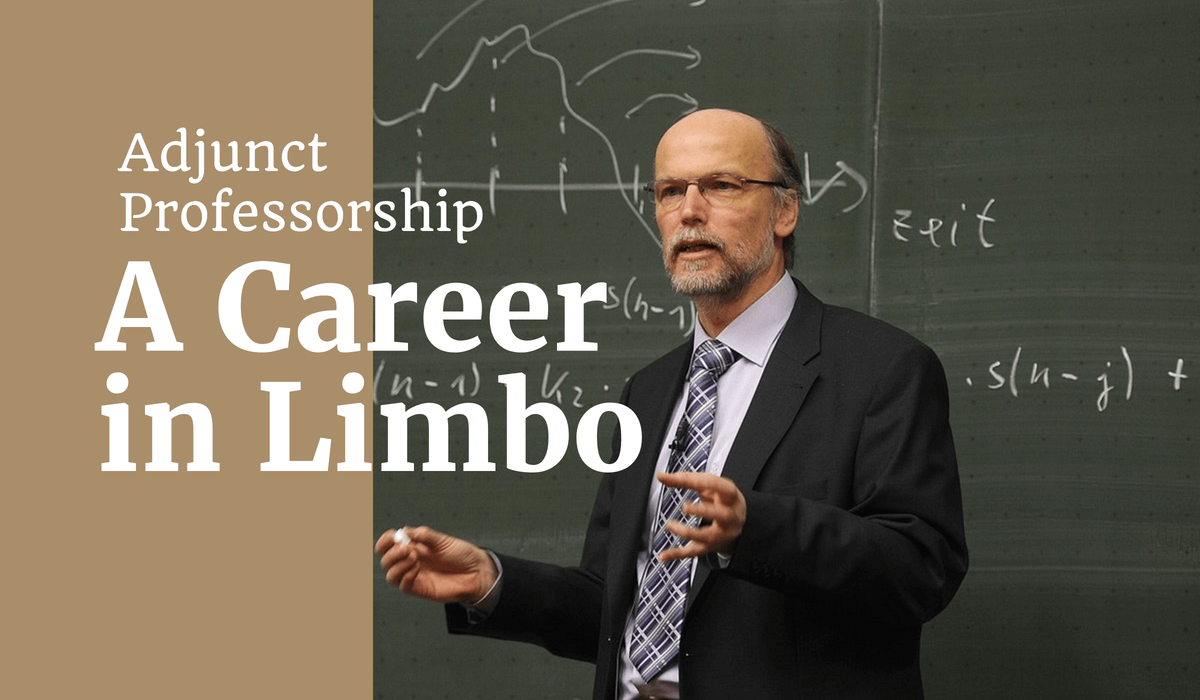 Many academics who want to teach in higher education aspire to become tenured professors. Contrary to what many critics of tenure assume, the reasons for desiring tenureship are not simply job security and a guaranteed income. They also involve the intellectual freedom and institutional support of having a permanent commitment by a university or college to support professorial research, writing, and art.
Even so, tenure is currently decreasing, as faculty are increasingly being hired as part-time adjuncts and non-tenured, full-time adjuncts. Here, we discuss the current state of tenureship, as well as the state of uncertainty that besieges many professors who work as adjuncts.
The Decline of Tenure
As a concept, tenure in America goes back to the 1700s, when most colleges were administered by religious organizations. This meant that a professor who expressed an opinion divergent from the dominant religious doctrine — or, in some cases, an opinion contrary to the beliefs of a university's major donor — was removed.
Understanding that faculty needed more job protection, the presidents of three major universities — Harvard, Columbia, and the University of Chicago — introduced the concept of tenure in 1900 to ensure lecturers wouldn't be dismissed without adequate cause.
While there are significant benefits for universities and colleges in offering tenure-track positions, such as faculty loyalty and the ability to attract top teaching talent, tenure has been on the decline since the early 1970s. Currently, only 17% of instructors at public institutions are tenured — and while postsecondary faculty increased by 26% between 1995-2003, tenure-track positions increased by only 17%. At the same time, part-time faculty jumped 46%.
Currently, three states — Wisconsin, Missouri, and Iowa — have enacted or proposed legislation that would end tenure altogether, both for new hires and retroactively for tenured professors. Perhaps the most startling statistic of all is that 70% of instructors nationwide are now not eligible for tenure.
The Benefits of Adjunct Professorship
As tenure-track positions have declined, part-time adjunct positions have increased exponentially. For some, being a non-tenured professor offers a type of flexibility that fits them very well. For example, professionals in fields such as law or medicine may have an interest in teaching but don't want to give up their day jobs. As such, being hired as an adjunct is ideal for those working in the private sector who want to share their industry experience with pupils wishing to enter the same field.
Also, some academics might not want the pressure and time commitment of a full-time tenured position; being hired as an adjunct and only teaching one course every other semester could be the perfect arrangement for these people.
The Disadvantages of Being an Adjunct Professor
For the vast majority of academics wishing to teach, there are severe detriments to being hired as an adjunct instead of as a tenure-track faculty member. The two most significant are the career instability and financial burden that almost always come along with being hired on a short-term, contract-by-contract basis. The lack of academic and intellectual freedom, inadequate institutional support, and the large volume of work that most adjuncts have are also potentially debilitating realities of life as a part-time faculty member.
Career Instability
It is almost impossible to create a long-term career, or a planned life, as an adjunct, because adjuncts never know if the universities they are working for will rehire them again the following semester or academic year.
Even if are considered brilliant teachers and have high reviews, budget issues and politics could cause a contract to be non-renewed at any time. And often, adjuncts don't know whether they will be teaching until merely weeks before their classes are supposed to start. This means they are in a constant state of flux and have to continuously search for alternate positions, as well as be ready to teach university-level courses at the drop of a hat.
Financial Issues
Adjuncts almost always have lower wages compared to tenured faculty, and little to no benefits. In 2010, only 23% of adjuncts had access to health insurance through their institutions, and 25% received public assistance from the federal government. The 2015-2016 Annual Report from the American Association of University Professors (AAUP) described how part-time lecturers were paid an average of $16,700 per year, which is only $800 above the 2015 Federal Poverty Guidelines.
Lack of Academic & Intellectual Freedom
Because adjuncts can be fired at will, with no due process rights, their academic freedom is seriously curtailed. Often adjuncts self-censor themselves out of fear of losing their already-tenuous positions. As passionate as adjunct professors are, they still need to pay the bills and can not risk angering those who hold the purse strings.
Inadequate Institutional Support
On a practical level, many adjuncts have very poor access to office space on campus, and they often don't have a personal computer, having to resort to using one of the universities public workstations. This makes it difficult for adjuncts to hold office hours and feel settled at their job.
Colleges and universities provide large amounts of financial, and other, support to tenured professors for original research (such as time off and funding to travel), but this same benefit is not accorded to adjuncts. This makes it exceedingly difficult for adjuncts to conduct research and publish papers, which is what they need to in order to be hired as tenure-track professors.
Overworked
Because adjuncts make so little, they often have to teach at many different institutions and have multiple adjunct positions just to survive. And because tenured professors are paid to research as well as teach, adjuncts often teach more but are still paid less. Carrying such a heavy teaching load makes it almost impossible for adjuncts to find the time (never mind the fiscal resources needed) to do the things they need to get ahead.
Adjunct Professorship: A No-Win Situation?
The Catch-22 is that, once an adjunct is hired as an adjunct, there is very little he or she can do to move onto the tenure track. And with tenure under attack as it is now, the chances for advancement continue to dwindle even more.
The state of uncertainty that adjuncts find themselves in seems destined to continue, as higher educational institutions continue to employ part-time lecturers at a greater rate than tenure-track professors, and tenure itself comes under attack from both politicians and university administrators alike.
Meet the Author
Gary Anderson is a freelance writer from Los Angeles, California. With over 10 years' experience writing on education, he is an accomplished and published writer, including on charter schools knough knowledge of Charter Asset Management. In his free time, he enjoys gardening.